In all the excitement of last weekend and the end of finals, I totally forgot to mention that Michael turned 25 on Thursday, April 30th!!! Upon the end of my last final, I assembled all the "goods" I had prepared for the celebration, then drove down to Taylorsville to surprise Michael. He knew I was already coming down to spend the weekend, but I don't think was at all prepared for the festivities I had planned.
I arrived early (actually it was a couple hours before he got off work) and sneaked into his room in his parent's house where I blew up 25 balloons and wrote 25 little messages to him. The messages contained little things I love about him. I then left his house and went to the store to find a bag in which to place all the fun and wonderful gifts I had previously purchased for him. So, Michael called me on his way home from the office and I might've stalled and told him I wasn't near Taylorsville at all when, in fact, I was just down the road, waiting for him to get home and see the surprise I had left in his room.
Michael called me as soon as he got home and saw the embarrassing display in his room and figured out that I had stuffed one message in one of the balloons, completing the 25 for his birthday. I think he thoroughly enjoyed the fact that "Cute Bum" was the one inside a balloon. ;) Anyway, I headed over to his house and we sat down while I gave him his presents which consisted of 2 little water guns we can use to soak each other with over the summer, another water soaker thing, 2 kites we can fly on a date sometime, and the first movie of Teenage Mutant Ninja Turtles..........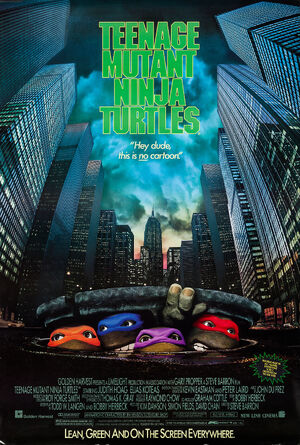 which we all know is a classic and a movie that Michael loves! I'm sure this will begin our movie collection of said "classics" and the purchase of the other two TMNT movies will follow in turn. And last, but not least, I found and burned one of Michael's favorite CDs, "Le Roi Soleil", which is a French musical he loves and remembers from when he was in France. I guess you could say that "our song" is from that musical. It really is good stuff and I love listening to the CD even though I don't really know what they are singing about most of the time. The music and singers are awesome!
Michael loved his gifts so much that he gave me a huge hug and lots of kisses accompanied by, "You're going to be the best wife, EVER!" Let's just say I think I did well this year, and I dare say my birthday surprise to him rivaled his attacking of my car in the church parking lot on my birthday back in October! Well, we finished the evening by making homemade soft pretzels (something Michael had been wanting to do for quite a while) and dipping them in all sorts of yummy sauces while watching TMNT!
(Side note on the sauces: We tried blue cheese, BBQ, marinara, ranch, and simple sprinkling of cheese on top. Marinara and ranch were definitely our favorites!)
It was a great evening and I'm so glad we were able to celebrate Michael turning 1/4 century old together. I really love him and can't wait for us to being our life together in just 17 days!